We offer wide range of high performance calendared rigid PVC film for Pharmaceutical Packaging. These PVC films are manufactured from excellent quality pharmaceutical grade raw materials using latest calendaring technology. These films are also produced under the most rigid quality standards in the industry, meeting all national and international regulations like Pharmacopoeia, FDA requirements, BGA recommendations of German Federal Health Authority, EC (European Community) directives and GMP standards.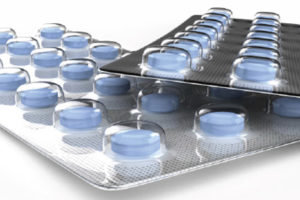 Product Features: 
Manufactured under controlled environment.
Full production traceability.
Meets all International Drug Regulations.
Controlled shrinkage, consistent forming and punching.
Superior thermoforming.
 Special grades available for deep drawing.
 Taste and smell neutral.
 Low migration levels.
Low moisture and gas transmission rates.
 Excellent dimensional stability and salability.
 Guaranteed thickness control for higher yields.
 Available in wide range of colours.
Good tight winding for trouble free operations.

Applications:
For: Blister Packing of Tablets, Capsules, Syringes, Needles, Ampoules, Vials, Suppository packs, Ointment tubes, Medical Kits, Surgical dressings ..etc